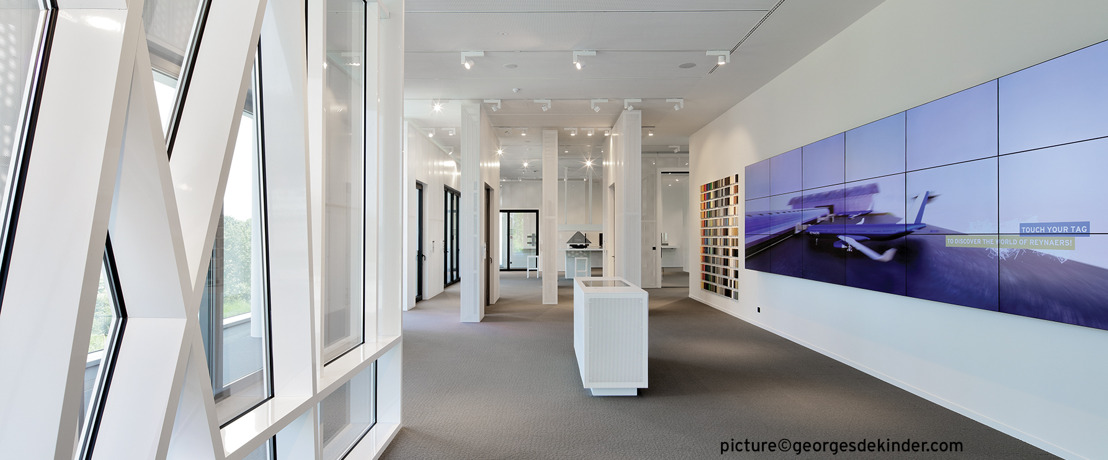 THE NEW REYNAERS CAMPUS COMBINES TECHNOLOGY AND EXPERIENCE
Monday, September 25, 2017 — Since the company was founded in 1965, Reynaers Aluminium has played a trendsetting role in the construction industry. The company is an authority in designing innovative window, door and façade systems. Nowadays, it excels in the development of high-tech tools to inspire, support and visualise designs for architects and decision-makers in the building process. Know-how, technology and experience are all combined in the new Reynaers Campus.
The Reynaers Campus in Duffel pools the know-how and experience of architects, window manufacturers, building contractors and the Reynaers Aluminium workforce. It is an international communication forum and a source of inspiration for anyone involved in the building process.

Experience Centre
The Reynaers Experience Centre is designed to bring people together and inspire them with innovative technologies for architectural building solutions. The Experience Room goes far beyond the classic showroom concept. There, of course you can see and feel the window, door and façade elements, but there are a large number of inspiring digital applications that complete the experience. Profile sections are projected as a hologram, selected products are visualised in buildings on the LED wall and much more. When you arrive home, you will immediately find all the information collected in your mailbox. This Experience Centre is the place to share know-how, exchange views, take decisions and strengthen partnerships.
For an exclusive, enthralling experience, building professionals can visit AVALON, where you can explore future buildings in Virtual Reality. AVALON is a VR room specially configured for architectural applications. Any project that has been designed with commonly-used 3D software can be uploaded in AVALON and projected. Changes can be made to the model in real time. Several people can be in one virtual reality situation and discuss the project together down to the minutest detail.
Training Centre
Reynaers attaches a great deal of importance to high-quality production and installation to ensure long working life of its aluminium systems. The company organises a large number of training sessions to teach customers the necessary skills and know-how so that, in turn, they can offer their own customers high-quality service.
Automation Centre
Reynaers offers manufacturers a comprehensive range for automating their processes. Each part of the production process can be automated by a judicious combination of the right know-how, a carefully chosen set of machines, the latest production technologies and an optimised link with the Reynapro software. In addition, Reyna-Flow was developed as an intelligent system for managing the workflow. It optimises the production processes via 'smart manufacturing' and improves quality and production time.
Technology Centre
The Reynaers Technology Centre is the largest private innovation and test centre in Europe. All Reynaers systems are subjected to stringent testing for air, wind and water tightness, thermal and acoustic insulation, safety, ... to ensure that they meet international standards. One of the test centre's showpieces is the state-of-the-art 15-metre high test wall for conducting air, wind and water tests on façades that are on upper floors. The Technology Centre is also home to the Research Centre, with the R-cube and the R-lab. The R-cube is a rotatable research and test setup developed to analyse thermal performance. The R-lab is a special lab to test solutions at an early stage by means of rapid prototyping and 3D printing.